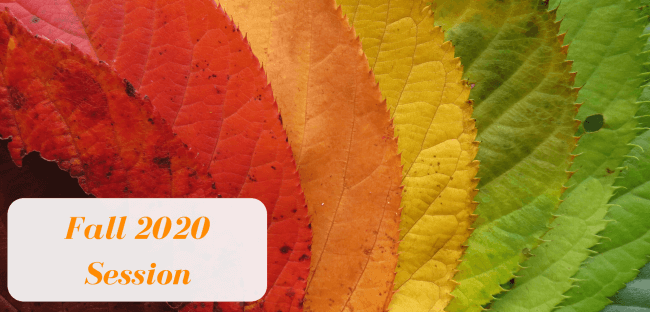 Our Fall session is starting soon!
On this page, you will find a summary of our Fall 2020 programs. Due to the current pandemic, many of our Fall 2020 classes and activities will be offered online, and you can find more information on each dedicated pages listed below. If it is safe to do so, we will also be offering in person classes, as well as hybrid classes alternating between online and on-site lessons. If you're unsure what's best for you, you can also simply contact our team by filling in this form, we will get back to you to let you know which program would best suit your needs.
Quick Access - Click on the following sections
French classes for adults
A few options are offered this Fall when it comes to French classes for adults:
Regular classes, taking place once a week, between September 10th and December 18th. Those will be ideal if you are looking for a steady progression, with predictable milestones helping you fully understand each step taken on your learning journey. Teachers will be focusing on reinforcing your existing skills and building up new ones, following specific goals based on what you already know.
ADULTS CLASSES - FIND OUT MORE
Immersion or language skills Workshops. These will be ideal if you would like to learn about a very specific topic, whether it's about culture or about some tricky language aspect you would like to focus on in order to enhance your existing language skills. Our workshops program will be announced in September and Fall workshops will be held until December 18th, both online and on-site, if it is safe to conduct in person workshops.
Intensive classes taking place 5 times per week over a period of 2 weeks or 3 weeks, depending on your level and learning goals. Those should be a great fit if you can focus on learning French only for a short period of time rather than for the whole Fall. Those intensive French classes are recommended if you would like to really dive into French, however be prepared, these classes will have a heavier workload. They are the best option for you if you really want to immerse yourself in French, and if you have a lot of free time before and after your French lessons to carry on studying on your own. Our exact schedule will be announce soon.
If you prefer a more flexible, "à la carte" option, we suggest inquiring about our private groups. Those are open to a maximum of 4 students, meaning that you can split the cost of your package between 4 people, as long as you can all agree on topics you would like to study and on times/dates when you want a teacher to conduct lessons. Those are a great option if you would like to study straight away, rather than having to wait until September 10th.
PRIVATE GROUPS - FIND OUT MORE
French classes for children and teens
Just like for adults classes, various options are offered this Fall when it comes to French classes for children or teenagers:
Regular French Classes for children and teenagers will take place on a weekly basis between September 10th and December 18th. All ages and levels are available, and we offer both online classes and hybrid classes.
REGULAR CLASSES - FIND OUT MORE
Intensive Classes for children and teenagers are best if you would like them to focus on French for a short period of time only. Lessons will take place 5 days per week, for two weeks. Those lessons are mostly recommended to highly motivated students, who would like to improve their French significantly, for example to improve their grades in school.
French clubs are the best option for young children, or for children who are complete beginners in French and who would just like a short trial period before committing to learning French more seriously. Our teachers will plan craft activities as well as songs and games, so your children can learn in an immersive environment. This option will be best for children who are really creative and love arts and crafts.
Do your children have very specific learning goals? Or would you prefer learning as a family, rather than letting your children study on their own? Private groups offer some extra flexibility and can accept a maximum of 4 students at no extra cost. So if you also want to brush up on your French while bonding with your children, this might be the best option for you!
PRIVATE GROUPS - FIND OUT MORE
French classes for Francophones
Nos classes hebdomadaires sont proposées du 10 septembre au 18 décembre. Ces leçons seront idéales pour les enfants qui parlent déjà français à la maison mais ont besoin de le maintenir, ainsi que de développer leurs compétences à l'écrit.
LEÇONS HEBDOMADAIRES - EN SAVOIR PLUS
Vous recherchez plutôt des cours sur-mesure, et de petits groupes de type "learning pods" ? Nos groupes privés peuvent accueillir jusqu'à 4 enfants sans frais supplémentaires, pour que les copains puissent se retrouver en ligne ou dans un lieu privé. Indiquez-nous seulement vos disponibilités et nous préparerons ensemble un programme adapté à vos besoins ou contraintes personnelles.
GROUPES PRIVÉS - EN SAVOIR PLUS
French classes for toddlers and families
Our French classes for toddlers are taking place between September 10th and December 18th. These lessons will be ideal for children who learn through music and games, as well as interacting with their care givers. Care givers attend for free and will also get the chance to learn some French basics!
TODDLERS CLASSES - FIND OUT MORE
Do you have young children who have an advanced level in French, or who need to follow a specific program, for example if you have a French Heritage or if you're planning to relocate to a French-speaking country soon? Maybe your children have friends they miss, and you would like to organize some French play-dates for them? Private groups offer more flexibility for families with young children. Learning a new foreign language such as French is also a fun way for parents to bond with their children!