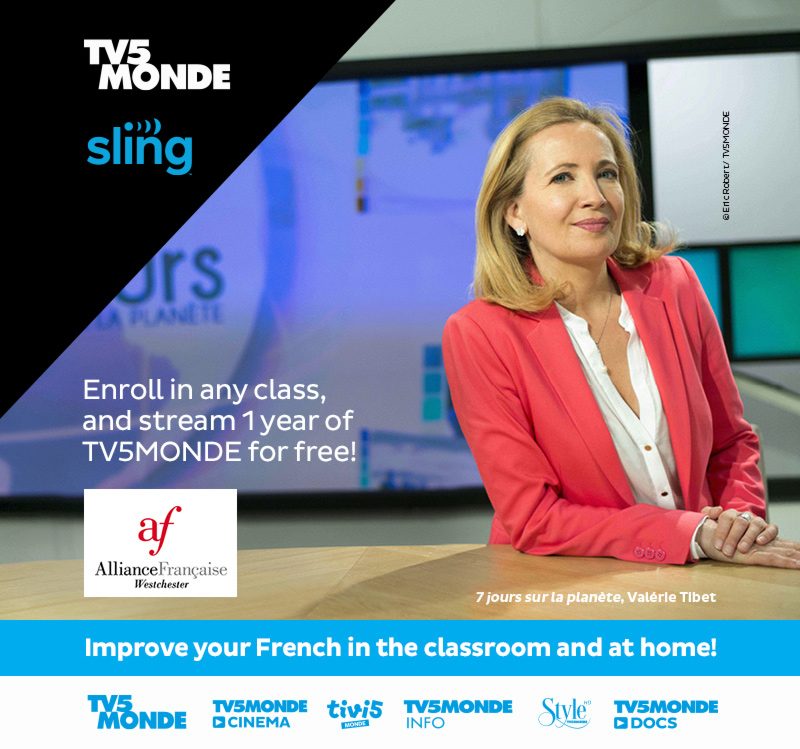 Improve your French beyond the classroom
Alliance Française of Westchester has partened with TV5 Monde in order to allow its students to improve their French language skills using a wide variety of TV programs! From May 15, 2022 to June 30, 2022, if you enroll in any of our upcoming classes, you can benefit from a 12 months TV5 Monde subscription for free!
When are eligible classes taking place?
Enroll in any of the following classes to be able to claim your free TV5 Monde subscription:
- Spring Term (only classes starting after May 15 are eligible)
Our Spring term is ending on June 22, 2022. Late Spring classes (taking place in White Plains) and semi-intensive classes can be completed within a few weeks.

- Summer Term
Our Summer term is starting on June 23, 2022 and ending on September 14, 2022. During the Summer, we offer a wide range of classes, which last from one to ten weeks, depending on the programs you're interested in. Most classes are short programs which don't require any commitment beyond a one week period. For more information, visit this page.

- Registration for the 2022-2023 Academic year
Our 2022-2023 Academic year start on September 15, 2022 and ends on June 28, 2023. When you enroll for the full academic year, you typically enroll for 3 terms lasting 10 weeks each, and most classes run for a total of 30 lessons during the school year. Apart from the free TV5 Monde subscription, registering for the full academic year enables students to pay a lower fee for each trimester than if they were registering for one trimester at a time. Click here to find out more.
What kind of programs can I watch on TV5 Monde?
To find out more about TV5 Monde programs, you can visit their official website here. You can also download their monthly guide here. Among the programs you can watch on TV5 Monde, the following programs can be very useful to improve your French listening skills as well as to build up your French vocabulary:
- French TV programs for children
- French news programs
- French language movies
- Documentaries
- Various programs about the French Art de vivre
How do I enroll to eligible classes?
You can simply sign up online, or if you're unsure which class is right for you, you can contact our team. We will be happy to assist you and answer any questions you might have about our French classes for students of all levels and all ages. If it's the first time you're signing up for French classes with Alliance Française of Westchester, a free French assessment will help us determine which class is best for you. Once you've enrolled in one of our eligible programs, our team will send you an email to initiate your free TV5 Monde subscription. Most subscriptions will be starting shortly after June 30, 2022.
What is the deadline to benefit from this offer?
The class you're registering for must be paid in full no later than June 30, 2022. Textbooks which may be required for your class may be paid for at a later date, however tuition fees have to be paid before this date. If your class requires an AFW membership or an annual access to our virtual classrooms, these fees can be paid after this date.
What kind of TV programs are best for improving my French?
It depends on your age and fluency level in French!
Once you've enrolled for one of our classes, feel free to ask our administrative team or teachers for specific recommendations. To begin with, we suggest watching shorter programs, or programs with subtitles, but we can give more specific suggestions based on your own stengths and weaknesses, as well as based on your immediate learning goals.