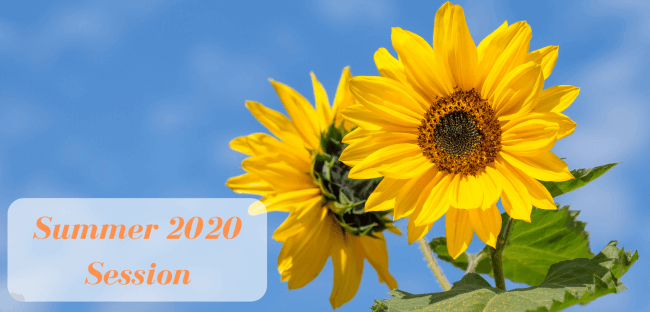 Our Summer session is starting soon!
On this page, you will find a summary of our Summer 2020 programs. Due to the current pandemic, all our Summer 2020 classes and activities will be offered online, and you can find more information on each dedicated pages listed below. If you're unsure what's best for you, you can also simply contact our team by filling in this form, we will get back to you to let you know which program would best suit your needs.
Quick Access - Click on the following sections
French classes for adults
A few options are offered this Summer when it comes to French classes for adults:
Regular classes, taking place once a week, between July 6th and August 28th. Those will be ideal for students who feel like they would like a full recap of what they've been learning with us so far. Teachers will be focusing on reinforcing your existing skills, so don't worry, we promise you won't need to learn new tenses or complicated grammar rules! The emphasis of these classes will be on practice and revisions.
ADULTS CLASSES - FIND OUT MORE
Shorter summer session - regular French classes for adults, between July 6th and July 31st. These classes will be ideal for students who would like to have a short recap of what they've learned during the school year, yet would also like to take a break in August. These classes are also ideal for adult students who have learned French a long time ago and need a short refresher course before joining our Fall term. The August break will give students plenty of time for self-study before learning about new topics this Fall!
Intensive classes taking place 5 times per week over a period of 2 weeks only. Those should be great if you would like to focus on French only for a short period of time rather than for the whole Summer. Those intensive French classes are recommended if you would like to really dive into French, however be prepared, these classes will have a heavier workload. They are the best option for you if you really want to immerse yourself in French, and if you have a lot of free time before and after your French lessons to carry on studying.
INTENSIVE CLASSES - FIND OUT MORE
If you prefer a more flexible, "à la carte" option, we suggest inquiring about our private groups. Those are open to a maximum of 4 students, meaning that you can split the cost of your package between 4 people, as long as you can all agree on topics you would like to study and on times/dates when you want a teacher to conduct lessons. Those are a great option if you would like to study straight away, rather than having to wait until July 6th.
PRIVATE GROUPS - FIND OUT MORE
Cultural workshops will also be available, however the dates have yet to be confirmed. If you would like to find out more about workshops dedicated to learning more about France or about Francophone cultures, please fill in this form.
French classes for children and teens
Just like for adults classes, various options are offered this Summer when it comes to French classes for children or teenagers:
Regular French Classes for children and teenagers will take place on a weekly basis from July 6th to August 28th. They are most suitable for children or teenagers who have already been studying French with us in the past and who would like to do light revisions as well as practicing concepts already studied before. While those are formal classes, as usual they will involve games and playful activities so children and teens can learn fun things in a relaxed atmosphere.
REGULAR CLASSES - FIND OUT MORE
Intensive Classes for children and teenagers are best if you would like them to focus on French for a short period of time only. Lessons will take place 5 days per week, for two weeks. Those lessons are mostly recommended to highly motivated students, who would like to improve their French significantly, for example to improve their grades in school.
INTENSIVE CLASSES - FIND OUT MORE
Summer Camps are the best option for very young children, or for children who are complete beginners in French. Our teachers will plan craft activities as well as songs and games, so your children can learn in an immersive environment without feeling like they're still at school. This option will be best for children who are really creative and love arts and crafts.
Do your children have very specific learning goals? Or would you prefer learning as a family, rather than letting your children study on their own? Private groups offer some extra flexibility and can accept a maximum of 4 students at no extra cost. So if you also want to brush up on your French while bonding with your children, this might be the best option for you!
PRIVATE GROUPS - FIND OUT MORE
French classes for Francophones
Nos classes hebdomadaires sont proposées pendant tout l'été du 6 juillet au 28 août. Ces leçons seront idéales pour les enfants qui cette année ne partiront pas en vacances et ont besoin de maintenir leur français autant que possible.
LEÇONS HEBDOMADAIRES - EN SAVOIR PLUS
Pour les élèves qui ont été perturbés par le confinement et ont besoin de reprendre confiance en eux, nous proposons des leçons permettant une rigoureuse révisions des fondamentaux. Ce cours s'adresse à tous les francophones, qu'ils soient d'habitude inscrits à l'AFW ou non.
RÉVISIONS DES FONDAMENTAUX - EN SAVOIR PLUS
Pour les enfants qui aiment lire, nous proposons des cours intensifs qui auront pour objectif premier un renforcement des compétences de lecture. Pas de grammaire dans ces cours, simplement des rendez-vous quotidiens pendant deux semaines pour les enfants qui ont le goût de la lecture.
OBJECTIF LECTURE - EN SAVOIR PLUS
Des camps d'été sont proposés pour les plus jeunes, ainsi que pour les enfants qui apprennent mieux dans le cadre d'activités purement ludiques.
Fin Août, il sera temps de se préparer pour la rentrée ! Nous proposons donc des cours intensifs qui permettront à vos enfants de se remettre dans le bain en douceur.
BIENTÔT PRÊTS POUR LA RENTRÉE !
Aucun cours ne correspond à ce que vous recherchez ? Nos groupes privés peuvent accueillir jusqu'à 4 enfants sans frais supplémentaires, pour que les copains ou les cousins puissent se retrouver en ligne même en période de confinement. Indiquez-nous seulement vos disponibilités et nos enseignants prépareront pour vous des programmes sur-mesure.
GROUPES PRIVÉS - EN SAVOIR PLUS
French classes for toddlers and families
Our French classes for toddlers are taking place from July 6th to August 15th. These lessons will be ideal for children who learn through music and games, as well as interacting with their care givers. Care givers attend for free and will also get the chance to learn some French basics! Your children's favorite puppets and toys will also be used as learning tools by our expert teacher, who is specialized in early childhood education.
TODDLERS CLASSES - FIND OUT MORE
Do you have young children who have an advanced level in French, or who need to follow a specific program, for example if you have a French Heritage or if you're planning to relocate to a French-speaking country soon? Maybe your children have friends they miss, and you would like to organize some French play-dates for them? Private groups offer more flexibility for families with young children. Learning a new foreign language such as French is also a fun way for parents to bond with their children!