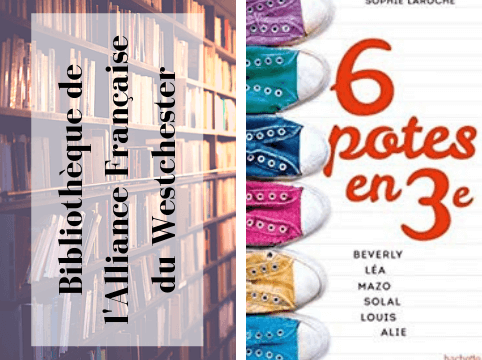 "6 Potes en 3ème" by Sophie Laroche
This article has been written by Karim Tounkara as part of our Semaine de Livre series of blog posts. Karim Tounkara is a student just finishing studying at Mamaroneck High School, currently volunteering at Alliance Française of Westchester to help our members and all local Francophiles find out more about some of the best books they can borrow from our library. If you're interested in borrowing some of these books, please ask for further information at our front desk, or send us an email at info@afwestchesterny.org.
Slice of Life
6 Potes en 3ème by Sophie Laroche is a slice of life novel which tells the story of a friend group of 6 fifteen-year-olds in 9th grade, as the title suggests. The story follows Beverly, Léa, Mazo (Marie-Zoé), Solal, Louis and Alie (Alienor) as they navigate their way through 9th grade and come to face with many problems that try to drive them apart. The book contains elements of humor, drama and even the odd love triangle. Each of the characters has their own individual storyline and problems but Laroche manages to always bring it back to the group through her unorthodox but effective narration style.
Character Development
As you read the novel you will quickly pick your favorite characters. But as the story progresses and they grow and change, for better or for worse your opinions on each of them will different than the ones you started with. Laroche does a great job of showing them mature in the span of a year as their growth is evident at the end of the book.
POV writing style
Laroche uses the same style as George R.R Martin in his A Song of Ice and Fire series of books and Rick Riordan in his Heroes of Olympus and Percy Jackson series; a point of view narration style. The only difference is that from time to time she will take breaks from following individual characters and switch to an omnipotent narrator who can check in with all members of the group at once. This makes the storyline both easy to follow and engaging for the reader. The book is around 300 pages but feels shorter because of the constant change of narrator which keeps you engaged throughout.
Audience
This book targets younger audiences as it has a middle/high school setting but I think it is a great book for anyone who is learning French or has an interest in French culture. The characters use of slang and casual language helps French learners get a look at the less formal side of French that is not really shown in textbooks.