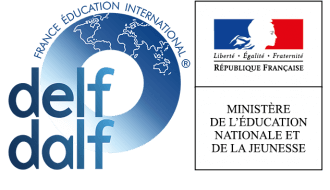 Why take the DELF or DALF exams?
Are you interested in a diploma which could prove your level of fluency in French? For example, you may be interested in a diploma allowing you to enroll in a French or in a Canadian university? Or maybe you need a proof of your level in French for immigration purposes, for a job application, or to be able to join a prestigious study-abroad program?
Where to take the DELF or DALF exams?
Alliance Française of Westchester is an accredited DELF and DALF exam center and can help you get ready before taking the exam. The exams this December will be held in Larchmont as our White Plains location is temporarily closed due to COVID-19. If a level is not available at our local center, we will also let you know which is the closest exam center where you could go for a specific upcoming exam session.
What is the right level for me?
Depending on your specific goals, we can recommend which level would be best for you. For example, if you're enrolled in one of our classes, we will usually let you know which is the corresponding DELF or DALF level. If you're not currently studying at Alliance Française of Westchester, if will be harder for us to assess your precise level, however we're always happy to help you determine which goal might be achievable in your specific case.
How can I get ready for the DELF exam?
You can either study on your own to get ready for the exam, or you can enroll in one of our classes, workshops or private lessons preparing you for a specific DELF or DALF level. Many of our instructors are also accredited DELF examiners, so they will know exactly what you need to work on in order to pass the exam with flying colors. Usually our instructors will start by assessing your strengths and weaknesses before giving you specific recommendations regarding skills you need to focus on.
For more information about the DELF and DALF exams, you can also check the official website here. You will find sample papers there, which should help you can an idea about which level might be right for you.
When is the next DELF or DALF exam session?
Usually the DELF Junior and Tout Public are in June and December, while the DELF Prim' and DELF Pro are in May. The schedule will be updated with 2021 exam dates as soon as the French Ministry of Education releases them. Below is the exam schedule for 2020:
| | |
| --- | --- |
| DELF Junior A1 | December 1st |
| DELF Junior A2 | December 2nd |
| DELF Junior B1 | December 3rd |
| DELF Junior B2 | December 4th |
| | |
| --- | --- |
| DELF Tout Public A2 | December 7th |
| DELF Tout Public B1 | December 8th |
| DELF Tout Public B2 | December 9th |
| | |
| --- | --- |
| DELF DALF C1 | December 10th |
| DELF DALF C2 | December 11th |

If you would like to register for an exam session taking place in 2020, you can download the registration form here. Please note that registration for DELF Prim' exams, for children, happens 3 months before the exam itself, so we strongly advise you to plan early. It's especially important as young children need time to get fully ready before an exam which can be a bit daunting.
If you're unsure which level is right for you, we strongly advise you first contact us. We also organise information sessions on a regular basis, so don't hesitate to give us a call to know when the next information session is going to be.