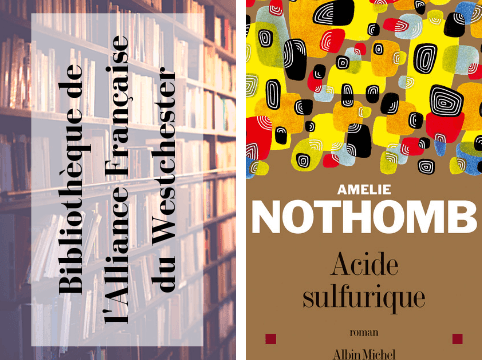 "Acide Sulfurique" by Amélie Nothomb
This article has been written by Karim Tounkara as part of our Semaine de Livre series of blog posts. Karim Tounkara is a student just finishing studying at Mamaroneck High School, currently volunteering at Alliance Française of Westchester to help our members and all local Francophiles find out more about some of the best books they can borrow from our library. If you're interested in borrowing some of these books, please ask for further information at our front desk, or send us an email at info@afwestchesterny.org.
Young Adult Dystopia
If you are a fan of novels such as The Hunger Games by Suzanne Collins, Maze Runner by James Dashner or Divergent by Veronica Roth, then you will surely enjoy Acide Sulfurique by Amélie Nothomb. It takes place in a dystopian future where people are grabbed off the street, at random, to participate in the ultimate reality TV show called "Concentration". The story follows Zdena, who is chosen to be a "kapo" on the show. The role of the kapos is to keep the prisoners in check; a guard, but with no behavioral restrictions.
The contestants on the show are given code names; combinations of three letters and three numbers in order to make them less human. Zdena develops an obsession with the natural beauty of contestant CKZ 114 and goes to extreme lengths to find out her name. The rest of the book tells the story of Zdena, CKZ 114, and the other kapos and contestants with drama and suspense on every page.
Compelling Story
Nothomb manages to make the reader feel connected to the contestants and have a genuine worry for their future. As you are reading, you'll feel as you are right alongside them. She does this by using dark themes and words that elude to the Holocaust that have a strong, emotional effect on the reader. Taking this into account, this is not a light read.
The book is relatively short, (200 pages) but every page contains information that is important to the progression of the story and the development of the characters. This is a science fiction novel whose purpose is to bring the reader to an alternate reality and have experiences that are impossible in the real world.
Author Bio
Fabienne-Claire Nothomb, known more commonly as Amélie Nothomb, is a decorated Belgian writer who has published 30 works. Born in Japan, Nothomb spent five years there before her family had to move to China due to her father's diplomatic duties. Her childhood experience in Japan made her a big part of who she is, she says. Nothomb published her first novel in 1992 and has written one every year since then. I would recommend this book to those who are proficient in French but also to those "students who wish to challenge themselves with a new vocabulary.