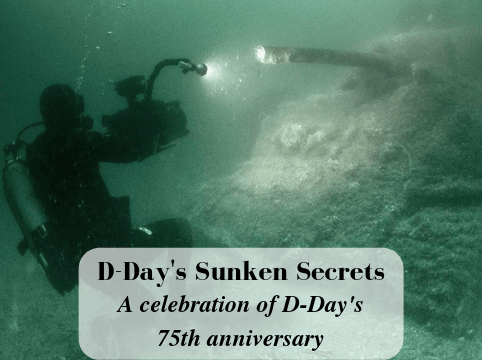 "D-Day's Sunken Secrets", by Annabelle Bresnahan
This article was written by Annabelle Bresnahan. Annabelle Bresnahan is a student at Pleasantville High School who volunteered at the Alliance Française of Westchester to share our events with our members and other local Francophiles. If you are interested in learning about our upcoming events please ask for further information at our front desk, or send us an email at info@afwestchesterny.org.
D-Day's Sunken Secrets
Thursday, June 6th marked the 75th anniversary of D-Day. To commemorate the battle and possibly explore some of the forgotten history, The Alliance Française put together a showing of D-Day's Sunken Secrets, a documentary directed by Sylvain Pascaud. The event was hosted at the New Rochelle Public library. Both Rear Admiral Samuel Cox (retired) and the documentary's director himself were there to speak about the battle. Rear Admiral Cox explained the significance of the battles impact, asking us to think about how the world would be different had it never happened.
An emotional documentary
The documentary takes the viewer to parts of the D-Day battle that have otherwise been left to be forgotten. We get to see the watery wrecks left behind, using new underwater technology. An unforgettable scene replays in my mind of one American Veteran entering into a submersible and making the descent down to the watery wrecks.  The submersibles, small submarine-esque water crafts, allowed for people to travel far enough down to observe old and sunken tanks. One veteran who shared his story, Jim Booth, was especially intriguing. A sub-lieutenant and a member of the Combined Operations Pilotage Parties. Him and the members risked their lives to gather information about proposed landing beaches and inshore waters during the war.
Let's not forget these heroes
I was lucky enough to visit Omaha beach myself, this last spring break. Seeing the American cemetery there, it never occurred to me how closely American and French soldiers truly fought together. After the showing, audience members were encouraged to ask questions, in which the director was able to provide further insight into what filming the documentary was really like. We then all moved out into the library for a "vin d'honneur" and the chance to speak directly to the Rear Admiral and director, all in all it was an incredible way to commemorate one of the most historic and influential battles in history.