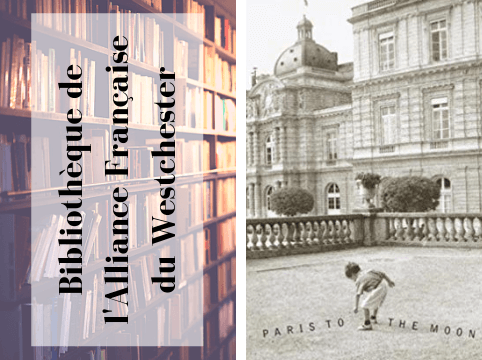 "Paris to the Moon" by Adam Gopnik
This article has been written by Grace Meador as part of our Semaine de Livre series of blog posts. Grace Meador is a student just finishing studying at Mamaroneck High School, currently volunteering at Alliance Française of Westchester to help our members and all local Francophiles find out more about some of the best books they can borrow from our library. If you're interested in borrowing some of these books, please ask for further information at our front desk, or send us an email at info@afwestchesterny.org.
The City of Lights
Compiled of short essays written by Adam Gopnik for The New Yorker, Paris to the Moon is a story of an American in Paris. Wanting to live in Paris since he was eight, Gopnik decided he needed to go before the turn of the century. So, in 1995, Gopnik and his family packed their bags and headed off to the dazzling city of lights where they would stay for five years. There, Gopnik would learn more about Paris than most native Parisians do in their lifetime.
New York Style Gyms
Gopnik's view of Paris is well represented in the short essay titled "The Rules of the Sport." Of all the entertaining and enlightening stories in Paris to the Moon, I found this one to be the most compelling. Gopnik talks about his issues with finding a New York style gym in Paris. He found that most gyms only allowed guests to come once a week at the most. Once he signed up for the gym, Gopnik wasn't able to simply hop on a treadmill like in the U.S; he had to perform tests and surveys to make sure he was eligible to use the gym.
This was an interesting part in the book because it painted a picture of the everyday lifestyle of Parisians. They are active and slim, but tend to use working out as a last resort to maintaining their youth.
Chinese Take Out
Gopnik even talks about bringing Chinese take out to France as well as his hatred of the all-American Barney! These hilarious stories help to form a picture of Paris in his eyes. At some points in the book, the reader may feel like they are having an espresso and a croissant at Les Deux Magots or walking along the Champs-Élysées.
An American in Paris
At times in the book, Gopnik claims to feel like a foreigner. He says, "Everything about moving to Paris has been wonderful, and everything about emigrating to France, difficult." However, he manages to immerse himself into the culture far better than the average tourist. From the French healthcare system and lack of a free market to Haute Couture and gastronomy, Gopnik's comedic style of writing and ability to find the macro in a micro world is truly fascinating.
A Must Read
This book is a must read for people who plan on traveling to Paris or simply love the French culture and want to learn more about it. You can pick up this book at the library of the Alliance Française de Westchester! If you like this book, check out Gopnik's newest read titled A Thousand Small Sanities: The Moral Adventure of Liberalism. The New York Times bestselling author has also appeared on the podcast network The Moth as well as The Thing About France.