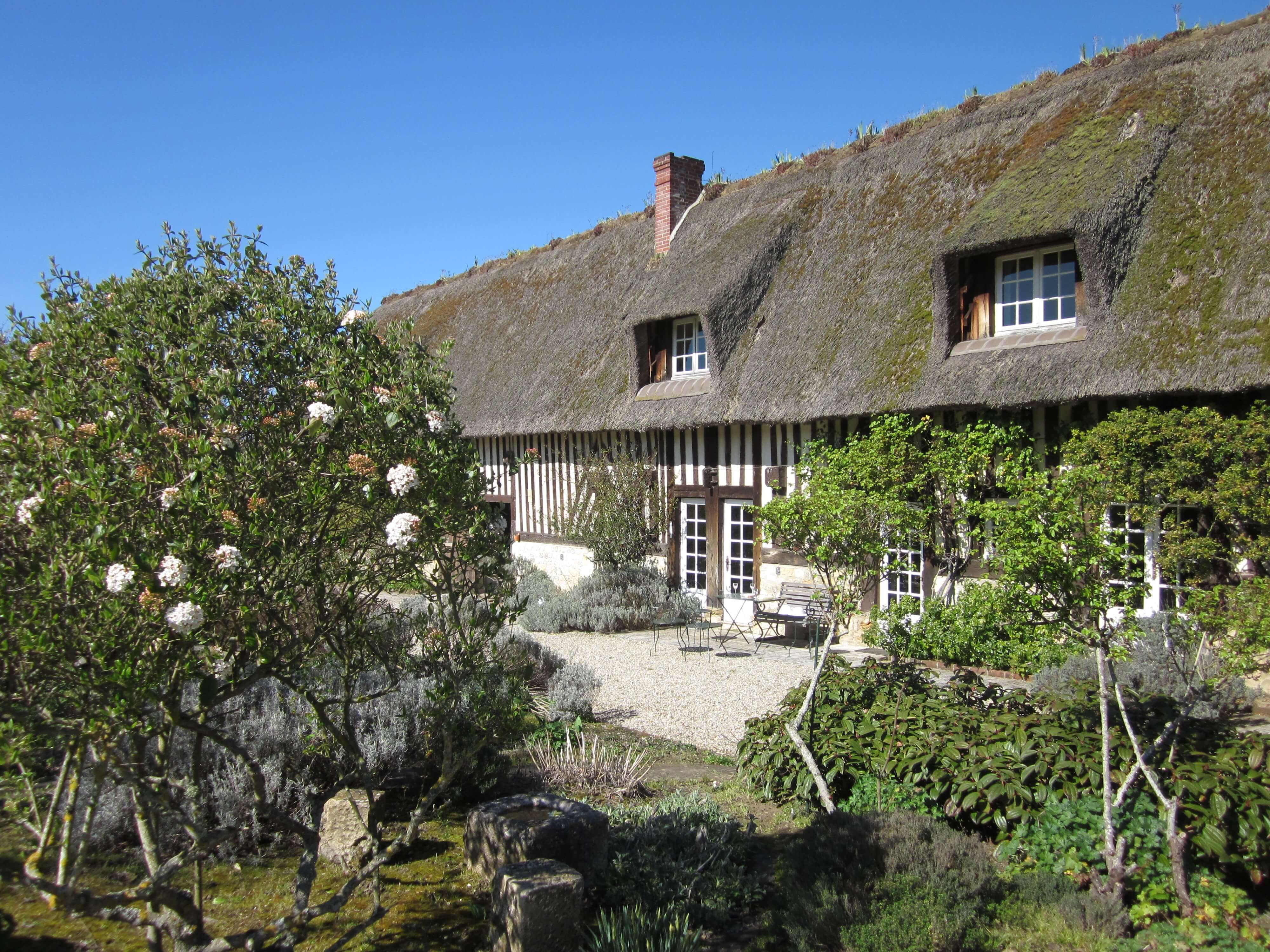 Visiting Normandy – Article By VeronicTravel
The content of this article has been sponsored by VeronicTravel and was originally written by Véronique. For more information, contact her at: www.veronictravel.com | vero@veronictravel.com | 917 495 5058
NORMANDY
Normandy means a lot to me. I was born in Deauville. I like to breath the flavor of the sea, to wander in the country-side and contemplate the color of the fields, to visit the small villages and rummage through the markets and the art galleries, to seat at a terrace with the view and eat cheese…my list is never ending when I take you to Normandy.
With its luscious green countryside, the morning mist above the apple trees, horses and cows grazing peacefully, and the nearby seashore with its long sandy beaches and renowned cliffs, Normandy is truly a unique and magical part of France. Most famous for the painful memory of D-Day, many visitors flock to the cemeteries of Omaha and Utah Beach to pay their respect to the soldiers who fought for freedom. From the numerous small villages filled with iconic half-timbered houses and grey stone churches, to the unforgettable Mont Saint Michel, and the atmosphere of seaside resorts of Cabourg, Deauville, Trouville, and Honfleur known worldwide thanks to famous writers and the impressionist painters, Normandy is a truly special place. Horse lovers will adore this region for its prestigious stud farms and racetracks. Spend a few extra days in this green, calm part of France, and you will succumb to the region's discreet charm, making you want to return again and again.
Normandy is a region where the Nature and the History met forever for the worth and the best.
This year 2019 is the 75th anniversary of D-Day.
Normandy, Land of Liberty
On June 1944, the battle of Normandy was the most determinant moment of the World History. On 6 June 1944 and during the long summer that followed, men from all over the world came to fight in Normandy to defeat Nazism and re-establish freedom. Normandy will bear the scars of this moment in history for ever and every year we remember and pay tribute to the veterans from America, Britain, Canada, Belgium, Denmark, Holland, Norway, Poland and Australia, along with their brothers in arms, those many heroes who lost their lives here during that summer of 1944.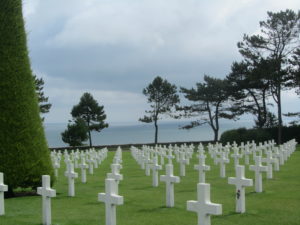 An International Commemoration
On 6 June 2019, the official international ceremony celebrating this major anniversary will take place on one of the landing beaches and will be attended by many Allied Heads of State. US President Donald Trump, French President Emmanuel Macron, British Prime Minister Theresa May and many other world leaders and dignitaries will all be in Normandy to mark the 75th anniversary. 
For this very special anniversary, an unprecedented program of festive events will take place from 25 May to 16 June. Come and enjoy parachute landings, musical firework displays, picnics, parades, concerts and exhibitions!
UNESCO World Heritage Site Candidacy
In January 2018, the French Ministry of Culture announced the official candidacy of the D-Day landing beaches to be included on the UNESCO list of World Heritage Sites.This listing will help preserve these sites and transmit the universal messages they represent to future generations. Indeed, Normandy's D-Day landing beaches have come to symbolise universal hopes for freedom and peace, and beyond that, for reconciliation.
Normandy, birthplace of Impressionism
Inspired by the unique light, the beauty and the mystery of Normandy, Impressionist painters set up their easels along the Channel coast and the banks of the Seine, in Rouen's Old Town and Monet's private gardens in Giverny.
The Impressionist movement is named after Claude Monet's Impression, sunrise painted in 1872 in Le Havre. Giverny, where Monet lived for many years, a village on the banks of the Seine has become a very popular place to visit for art lovers.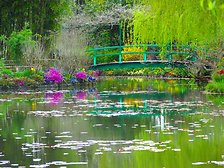 Giverny and its surroundings
The dreamy water-lily ponds created by the supreme Impressionist painter, Claude Monet, gave him his greatest artistic inspiration and have made this little Seine-side village celebrated across the world.
See Giverny and live Impressionism…. As you tour this village and its surrounding area, you will experience the same sensations that inspired Claude Monet: landscapes whose appearance alters with the changing of the light and wind, explosions of colours, cascades of flowers, endless reflections of the light. Plunge into this picturesque setting by visiting the museums and galleries that line the streets of Giverny, and by walking alongside the Seine in the footsteps of the master of Impressionism.
Giverny's reputation as a haven of creativity was soon secured. Monet's famous Water Lilies, painted in the garden he lovingly created at his Giverny home, have long been synonymous with the Impressionist movement.
No art lover's trip to Normandy would be complete without a visit to the Fondation Monet's home and gardens.
Rouen
Artists flocked to the city, fascinated by the area's natural beauty and the plethora of unspoiled architectural gems. The Notre Dame Cathedral had its moment of glory when Monet consecrated some thirty canvasses to its façade, painted at various times of day to capture the changes in luminosity, one of his best-loved series. Standing beside the Seine you can see the Saint-Sever district on the left bank, once the heart of Rouen's docklands immortalized by Camille Pissarro in 1896. Both Monet and Pissarro succumbed to the charms of the half-timbered houses and narrow streets of this medieval city. Works are exhibited in the Rouen Fine Arts Museum.
Honfleur
Ports don't come any prettier than Honfleur on the Seine's estuary. Glorious historic houses jostle for position on the quays, as do galleries and restaurants. Packed with cultural sights, Honfleur has a wealth of attractions to delight its many visitors. Honfleur's beauty has long attracted artists, with works to be seen both in the town museums and in the modern galleries that abound. As Honfleur is so clearly dedicated to tourism today, you can choose from an exceptionally enticing selection of hotels, restaurants and shops around town. Along Honfleur's stretch of estuary, you can stroll through civic gardens to the beach. Up the hillside, visit Notre-Dame de Grâce chapel and enjoy great views over the Seine estuary. From Honfleur you can also take boat trips out on the vast Seine estuary, or embark on a walk along the phenomenal Pont de Normandie that spans the Seine estuary so sensationally.
Deauville
An internationally renowned resort, Deauville oozes style. Glamorous events abound, from prestigious horse races and polo to the annual Deauville American Film Festival. Golf and thalassotherapy sea-water pamperings are easily to hand. Enjoy the elegant hotels, boutiques and restaurants, not forgetting Deauville's greatest pull, its magnificent beach.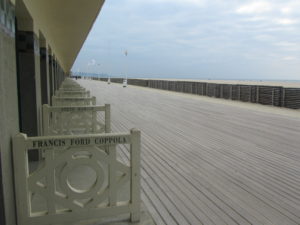 Trouville
Artists and writers have long fallen for Trouville, Deauville's older sibling. Trouville matches its close rival of a resort for glamorous buildings and villas, for splendid sands and boardwalk, and for cultural attractions, but it also has a vibrant fishing port.
Marguerite Duras, perhaps France's most famous female writer of the 20th century, was a great cultural figure who became a devotee of Trouville, spending her summers here. She said that everyone she had ever met who had come to the resort for a first time said they dreamt of returning.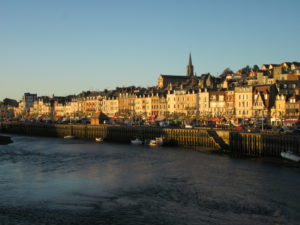 Cabourg
This swish resort vaunts broad sands, a wide promenade and genteel airs. Such elements seduced the famed French novelist Marcel Proust. He enjoyed staying at the majestic Grand Hôtel, from where, still today, you can contemplate Cabourg's multiple modern seaside pleasures.
The Mont-Saint-Michel
A magical island topped by a gravity-defying medieval monastery, the Mont-Saint-Michel counts among France's most stunning sights. For centuries one of Europe's major pilgrimage destinations, this holy mount is now a UNESCO World Heritage Site, as is its breathtaking bay.
Parks and Gardens in Normandy
Water, light, colours and gentle landscapes – along with the diversity of cultural riches – blend perfectly with the art of gardening. The results are a delight. Normandy'srose gardens route, water gardens, art gardens…
Food and drink
Famous for its dairy products, like butter, milk, cream and cheese, the region is also worldwide renowned for its apples. Most restaurants in Normandy will use locally sourced products and some producers are delighted to welcome visitors for tastings.
Normandy is haute-cuisine heaven for food lovers and visitors seeking authentic culinary experiences.
Markets in Normandy showcase traditions, authenticity, the quality of life "à la française" and the diversity of local produce. To experience the great pleasures of a colourful, lively and welcoming atmosphere by browsing at the local markets, here is a listing of markets days, and do bear in mind that most markets actually take place in the morning.
Visits & tastings
Most producers are delighted to welcome visitors, from the Camembert Cheese farm to the Palais Benedictine or various Calvados distilleries where all the stages of production are explained to and tasted by the visitor.This will give you both an insight into Normandy's traditions and an understanding of the production processes.
The Camembert trail & the cider trail are the most famous.
Dream cheese
Normandy's cheese board is of the most impressive in France, and contains the best-known types of cheeses outside its local area. Its most famous cheese is Camembert which comes from the village of the same name near Vimoutiers, but you can also try Neufchâtel, produced in a variety of different shapes and sizes, Pont-L'Evêque and Livarot. Cheese is in France usually served between the main course and dessert.
A little tipple
The abundance of apples which flavour both savoury and sweet dishes also means that Normandy boasts a wide range of other apple bi-products, most notably cider, poiré or Pear liquor, pommeau and calvados.The famous shot of calvados with apple ice cream, or "Trou Normand" is a traditional way to clear the palate between courses of typically rich Norman food. Another liqueur of the region is Bénédictine, which can be drunk with ice before a meal, or afterwards, on its own, as a digestive. It is also sometimes used as a base for many famous cocktails.

Sport and Activities
Whether you like walking, cycling, horse-riding, watersports, golf or fishing,visitors to Normandy will not be disappointed by the very best of the Great Outdoors on offer.
Family Friendly
Normandy is one of the top destinations for non-stop, child-friendly entertainment. Whether by the seaside or in the heart of the countryside, families will find lots to see and do all year round. Beach clubs, water parks, zoos, aquariums, theme parks, rail biking, cycling, water sports, mini-golf…
Haras du Pin
The Haras du Pin is the oldest, most aristocratic, most striking national stud in France. Founded by Louis XIV, its bears the nickname of 'the equestrian Versailles' well. In its idyllic setting in southern Normandy, in a region renowned for its centuries-old horse-breeding traditions, the stud stages equine events.
Horse riding in Normandy
A discovery of Normandy would be incomplete without a mention of this region's passion for horses. Discover the Normandy countryside from on high, perched in the saddle of your trusty steed. Hire a horse for the day to trot along bridleways, meander through parks and forests or simply take a lesson.
Whether it's for just a few hours gentle hacking in the forest in Eure, or crossing the Mont-Saint-Michel bay on horseback for a once in a lifetime experience, a few days touring along coastal paths and beaches of Cotentin or through the verdant slopes of the Suisse-Normande.
Golfing in Normandy
Less than two hours from Paris, Normandy is a destination of choice for short breaks or longer stays, with some magnificent courses, rich and varied cuisine, quality hotels, as well as an outstanding historical and cultural heritage. Whether you are a beginner at golf or an experienced player, Normandy's golf courses are ready to welcome you.
Hiking
With nearly 2,000 miles of long-distance hiking trails to choose from, together with a wide network of planned itineraries in every possible type of environment, walkers in Normandy have the world literally at their feet.
Cycling
Cycling is a great way to see Normandy and with more than 310 miles (500km) of cycle paths, you can combine the fresh air with sightseeing. It's a great way of soaking up the local atmosphere and traditions.
There are plenty of cycle routes on offer for just a day out or even short break which suit all levels of ability and experience: an ideal way to combine the great outdoors and have fun with friends and family.

Etretat
Contact VeronicTravel and let us customize your journey
See some examples of trips organized by VeronicTravel: